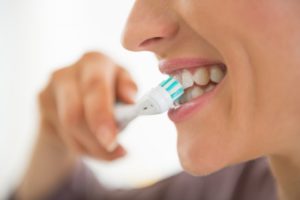 Whether you're looking to pick up some healthier dental habits or already consider yourself an oral hygiene pro, it's important to be mindful of your daily routine. It's easy to miss a few crucial steps, like brushing your tongue just as much as you brush your teeth. In this post, your dentist will outline some important oral hygiene habits to keep your smile happy and healthy.
Maintain a Healthy Diet
Whatever you put in your mouth has an effect on your teeth's health, making a healthy diet just as important as brushing your teeth. While you should enjoy a balanced diet, there are specific foods that can boost your oral health. Crunchy fruits and vegetables will help get your jaw working. Black or green tea helps slow oral bacteria growth and cheese lowers the amount of acid produced in your mouth. Consuming a healthy amount of calcium will support both your jaw and overall oral health.
Sugary and acidic foods can erode the enamel of your teeth and lead to cavities. Be mindful of your citrus intake and treat soda, candy and sports drinks as treats to be consumed minimally. Sticky and crunchy foods, such as dried fruit and chips, can easily get stuck in your teeth. When enjoying any of these foods, rinse your mouth with water afterwards to wash away some of the negative effects.
Stick to a Routine
Taking your time while cleaning and giving attention to every part of your mouth will help you stay healthy. Make sure to include these steps into your routine:
Brush your teeth twice a day, for at least two minutes at a time
Make sure to also gently brush your gums and tongue
Floss your teeth at least once a day
Use mouthwash (containing fluoride) at least once a day
Purchase dental products in pairs so you always have a back up
Visit Your Dentist
Even the most dutiful teeth cleaner needs to visit the dentist regularly. First, you need to find a practitioner that is right for you. A simple Google search of 'dentist near me' will get you started. When choosing your dentist, keep their credentials, convenience and patient reviews in mind. You should ultimately feel comfortable with your dentist and their office.
Visit your dentist at least twice a year for cleanings and check-ups. This can help your dentist recognize and prevent dental issues before they become serious. Make sure to ask any questions you have and mention any issues you are currently experiencing. You can also ask for general tips to best care for your mouth. Schedule your appointments in advance to secure a day and time that works best for you.
The hardest part of implementing these healthy oral habits is starting. After a few days, they can start to feel like second nature. With some self-discipline and guidance from your dentist, you can enjoy healthier teeth and a happier smile.
About the Author
Dr. Neil Flenniken has over 20 years of experience practicing dentistry. He is an expert in general, cosmetic and implant procedures. Dr. Flenniken is a Fellow of the Academy of General Dentistry. If you have further questions about your oral hygiene routine, he can be reached through his website or at 717-249-7777.