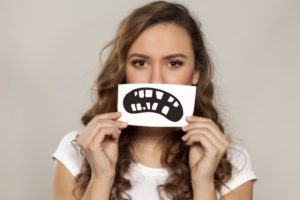 According to a survey published by Delta Dental, more than 30% of Americans aren't brushing their teeth enough. Unfortunately, this isn't the only harmful dental practice that plagues the country. While you may be used to sipping on sodas or chewing on ice, you should drop these habits for the sake of your teeth. In this post, your dentist lists some of the most damaging oral health habits.
Which Habits to Cut Out
Avoiding these habits can help both your mouth and your wallet. Keep your smile shining by caring for your teeth.
Smoking
Cigarettes have been proven to be extremely detrimental to multiple areas of your health, including your mouth. Smoking can cause tooth discoloration, bad breath, loss of jawbone density, inflamed salivary glands, gum disease and oral cancer. Breaking this habit is one of the best things to do for your oral health, so don't hesitate to reach out to your doctor for help.
Chewing on Non-Food Items
Biting foreign objects can crack or chip your teeth. This includes pencils, pens and toothpicks. Biting your fingernails is especially damaging because it exposes your mouth to the bacteria under your nails.
Eating ice may cool your mouth down, but it also wreaks havoc on your teeth. Our mouths aren't designed to crunch on ice and your teeth can crack or chip as a result. Ice can also damage tooth enamel and increase your teeth's temperature sensitivity.
Using Your Teeth as Tools
Never use your teeth to open containers, remove clothing tags or pop open a bottle. Bypassing scissors can chip or crack your teeth and undo expensive dental work.
Sipping on Sugar
While water may not be your favorite drink, it's the main liquid you should be consuming throughout your day. Constantly drinking juices, sodas, sports drinks and other sugary beverages continuously exposes your teeth to destructive sugars and increases your plaque levels. These additional bacteria can result in tooth decay and gum disease.
Brushing Too Hard
It may be surprising to see something related to brushing your teeth on this list, but improper technique can harm your mouth. Aggressively brushing your teeth can irritate your gums and cause them to recede. You can also erode your tooth enamel. If your toothbrush bristles are worn down, you are likely brushing too hard. Using a soft-bristled brush can help reduce the pressure on your teeth.
While some of these steps may seem like no-brainers, it's easy to fall into unhealthy dental habits. Keeping your mouth healthy will save you from stress, discomfort and expensive treatments. Make sure to regularly visit your dentist so they can alert you of any harmful habits you may have.
About the Author
Dr. Neil Flenniken has over 20 years of experience practicing dentistry. He is an expert in general, cosmetic and implant procedures. Dr. Flenniken is a Fellow of the Academy of General Dentistry. If you have further questions about your oral hygiene routine, he can be reached through his website or at 717-836-1259.